I'm certified and I have proof. :) After three nights of classroom and three days on the water, I have completed the

Community Sailing Course

offered through

The Sailing Club of Central Florida

.
All in all, the course was a cherished experience. It fills the niche between low cost introductions to sailing which offer only a couple of hours on the water, and the higher level certifications which can take days of full time effort to complete.
Day 5 returned us to the classroom to learn a few final points and review our knowledge for our exam. The exam was 50 questions of multiple choice, and fill in the blank which covered sailing skills, procedures, safety, and terminology. Continuing the thread established in my earlier posts, the test had many poorly worded questions, spelling mistakes, and even items which were not covered in the course or book. The instructors, to their credit warned us of this ahead of time, and told us which questions we could skip.
This sailing club, like many small grass roots community organizations, is run by passionate individuals. The constant personality challenges faced in the class as well as the the rough nature of the test attest to the small pond, big fish effect often found in these small groups. In small organizations centered around big passions, often those looking to feel like a big fish find solace in dominating a small group. I confirmed this interpretation later at the first club meeting I attended. (Required attendance in order to pick up your certificate, and coupon.)
The test results were very very mixed. I scored nearly perfect, most probably due to my out of class personal reading I have been doing. Two of our participants also scored reasonably well, with one participant really finding the test a challenge.
With the classroom portion behind us Day 6 was our final day on the water. Our last water day was amazing. The wind had kicked up to 9 to 12 miles per hour, increasing our sailing speed, and really letting us hone our basic skills. Each student was again paired with their own teacher, each of us sailing with someone we had not yet experienced. My teacher was very laid back, yet I soon found out, very competitive.
We set up a pattern of buoys in a triangle shaped course. This standard sailing course requires boats to practice all types of turning and sailing directions. Our wind was very consistent, which also made the practicing very enjoyable. In fact, much of the training on that last day was simply in the challenge of getting the boat to a specific spot on the lake to drop or recover a buoy.
While out doing our general practicing, we also were drilled on man overboard technique. A head sized plastic container was thrown overboard without warning and the instructor yelled, "Man overboard!" We then had to react by sailing away from the man perpendicular to the wind, then jibing back to the location to pick him up. My man did make it back on the boat, but not before two head concussions with the side of the hull. Oops.
The wind slowly grew stronger while we were out, the boat became faster and faster, and healed (leaned) over more and more. Our previous sail days had no significant wind so this excitement was thrilling, and mildly intimidating. I reminded my teacher that I had not practiced in this level of wind, so he gave lots of good direction on how to handle the additional power in the sails.
By the end of the day, I was sailing like a well experienced amateur! The wind brought us right back to our landing when it was time to come in. Oh, and my instructor would be happy to note that our boat won three of the three races that day. (I was just happy to be sailing.)
One word on the varying success of the students in the class. Sharon was not able to come to this last sail day. She injured her knee on Day 4 while rigging a boat, and due to lots of running around for work, was in no condition to finish the sailing course. Another student, while in full attendance to the class, had not yet developed the knowledge or skills to successfully navigate his boat. The class instructors were very flexible in both cases, and were happy to give each person additional boat time on future weekends to get them through the course at no additional charge.
Now for the true heart of the course. This class is designed primarily to introduce you to the club, its boats, and safe use of those boats. As such it is a tool for bringing new members into the club. In order to further this goal, the certificates of completion are not awarded at the last class, but at the next club meeting. This drives the participants to meet the wider club members and hopefully get involved in club activities and leadership.
The club meeting was the next Monday after the last class day and once again held in the Community Room of the Orlando Fashion Square Mall. In addition to the certificate, graduates were given a club t-shirt, as well as a coupon for a two hour sailboat rental at a the Lake Fairview Marina.
Com-Pac 16's at Lake Fairview
The club meeting was as you may expect if you have ever been to a Home Owner's Association meeting. An agenda filled with typos, board members taking procedure very seriously, heated discussion about insignificant subjects, and general loss of the forest for the trees. I experienced the meeting as having an air of insider socialization. There was almost no one under 50 at the meeting, and a real lack of questioning assumptions and norms.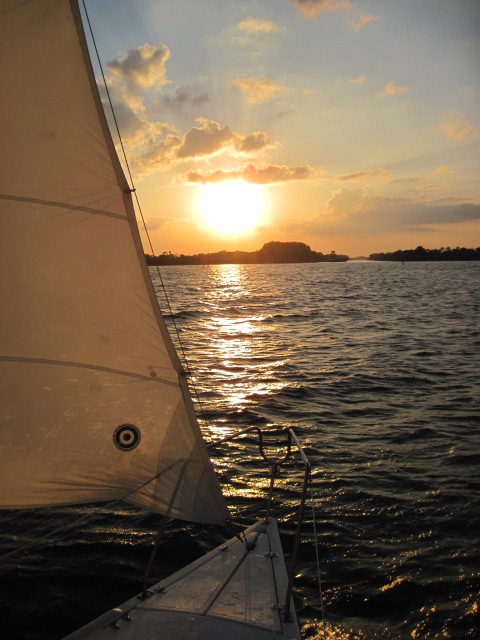 I signed up for this sailing class in order to whet my appetite for sailing until taking a more serious sailing class later in the season. These and future classes will allow me to charter my own rental boat as a skipper, and spend a week or two along beautiful coasts while having the flexibility to explore or relax as my partner and I see fit. I see sailing as a tool of discovery of both the world's people and landscapes, but also of personal and relational adventures which the solitude of open water can engender.
The Sailing Club of Central Florida, does not seem to lead to those goals. It looks to be a group of passionate people who love to race each other in circles and feel the thrill of being big, on a small boat. If that is the community for which you are looking, I highly encourage you to sign up for this budget friendly class and club membership. I am sure I will be taking advantage of my six month membership to sail on Sundays on the little Lake Baldwin.
Maybe I will see you there!